If you want to reduce stubborn fat, you may have heard about a revolutionary technology called CoolSculpting®. But what exactly is CoolSculpting®, and is this fat reduction treatment right for you?
Learn everything you need to know about CoolSculpting® and how it works in this guide.
What Is CoolSculpting®?
Developed by Zeltiq, CoolSculpting® is a non-invasive process that freezes and breaks down fat cells. It's the only FDA-approved technology for non-surgical fat reduction with cooling.
Does CoolSculpting® work? Yes! Unlike other "miracle" fat loss treatments, CoolSculpting® is a research-backed technology with proven results. If you're struggling to shed stubborn fat on your belly, thighs, or arms, CoolSculpting® could be the perfect solution for you.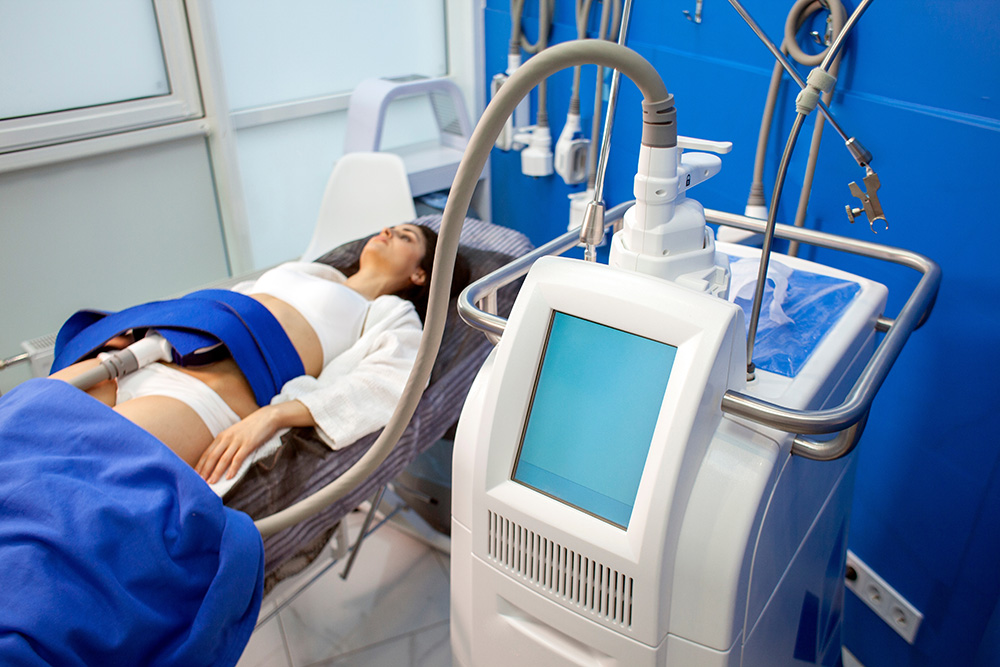 How the CoolSculpting® Process Works
Curious about what happens at a CoolSculpting® appointment? Here's a CoolSculpting® guide on what to expect when you arrive at Becker Cosmetic:
A technician will ask you to change into disposable clothes for the procedure.
We'll take pictures of your treatment areas and apply markings for the CoolSculpting® applicator.
We use a protective gel pad to shield your skin from the cold.
Your technician will draw fatty tissue into an applicator cup with vacuum suction. During this process, you'll need to remain as still as possible.
The technician delivers precise cooling to freeze fat cells within the treatment area.
We massage the treated area for about two minutes to break up fat cells.
The whole process takes one to three hours. Most patients experience few side effects and can resume their usual activities right after treatment.
How To Prepare for Your CoolSculpting® Appointment
Before committing to a treatment plan, you must meet with a CoolSculpting® specialist from Becker Cosmetic. You'll talk about your fat reduction goals and medical history so we can determine whether you're a good CoolSculpting® candidate.
You don't need to do anything special to prepare for your CoolSculpting® procedure, but we'll ask you to go easy on the coffee and eat a light snack before your appointment.
What Results Can I Expect?
At this point in our CoolSculpting® guide, we'll answer your top question: What about the results?
CoolSculpting® reduces fat cells by 20% to 25% after one treatment, but you won't notice a difference immediately. That's because your body needs to process the crystallized fat cells first naturally.
All bodies are different, but you'll typically start seeing changes in about three weeks. You'll see the biggest transformation around the three-month mark.
Is CoolSculpting® Right for You?
CoolSculpting® is a great choice if you're at or close to your target weight and need help getting rid of stubborn fat. We can use CoolSculpting® to reduce fat in the:
Upper hips (love handles)
Arms
Chin
Back
Inner and outer thighs
Upper and lower abdomen
Buttocks
CoolSculpting® works best if you're already eating healthy and exercising regularly. If you're heavily overweight or obese, you won't benefit from CoolSculpting®.
Like other cosmetic treatments, CoolSculpting® may require multiple sessions before you see results. To get the most out of CoolSculpting®, you must commit to several sessions for the full fat-loss effect.
CoolSculpting® isn't right for you if you're pregnant or think you might become pregnant soon. And if you've recently undergone surgery, we'll want to wait until you've recovered to apply CoolSculpting®.
People with the following conditions aren't candidates for CoolSculpting®:
Paroxysmal cold hemoglobinuria
Cold agglutinin disease
Cryoglobulinemia
Current hernia (a repaired hernia requires doctor clearance)
Is CoolSculpting® a Weight Loss Treatment?
While CoolSculpting® does eliminate fat, don't think of it as a weight-loss treatment. Weight loss and fat reduction aren't quite the same thing.
Even after you've lost weight, you could still struggle with stubborn fat despite exercising and eating a healthy diet. If this sounds like you, you could be an excellent candidate for CoolSculpting®.
Does CoolSculpting® Hurt?
CoolSculpting® is relatively painless and requires no sedation or anesthesia. You may notice slight cramping, stinging, mild pinching, and tugging at the treatment site. These sensations should subside as the CoolSculpting® process numbs the treatment area.
Is CoolSculpting® Safe?
CoolSculpting® is an FDA-cleared process that's perfectly safe when applied by a trained technician. The process only causes mild discomfort and doesn't come with any long-lasting side effects.
How Long Does CoolSculpting® Last?
Here's the best part of CoolSculpting®: Once you've said goodbye to those stubborn fat cells, they stay gone! If you gain weight later, it spreads evenly throughout your body instead of settling in one spot, like your tummy or arms.
Schedule Your CoolSculpting® Appointment With Becker Cosmetic Today
Now that you've read our guide, is CoolSculpting® worth it? If you're looking for a cosmetic treatment that can help you kick stubborn fat to the curb, you could be the perfect CoolSculpting® candidate. Call Becker Cosmetic at (360) 625-5360 to book a consultation for CoolSculpting® today.
The Becker Cosmetic blog highlights the newest treatments available, skincare tips and tricks, and anti-aging insider secrets.
Sign-up to get updates and exclusive specials delivered to your inbox.